This Summer has already given us many beautiful days, perfect for a pick-nick.I love pick-nicks with friends and pasta salads are one of my favourite dishes to take with me to the park.  For example my Summer pasta with cauliflower-almond pesto.
If you like eating outside as much as I do try it, it will surprise you with its creamy, delicate taste and its very special bite.
This Summer pasta is delicious, light and fresh, so it's perfect for a warm day. It's great also eaten cold, as a pasta salad, for example during a pick-nick. In this case make sure you cook the pasta REALLY al dente because it will keep on absorbing moisture from the sauce getting softer as it does.
Raw cauliflower might not sound really charming but it's really yummy, especially in combination with fresh feta cheese and hot chilli peppers. Try it and you'll love it too!
I used three-color fusilli but you can use any other pasta you like – preferably a short one. So farfalle, penne and tortiglioni are totally OK.
If you don't have a kitchen robot you can grate the cauliflower with a cheese grater and prepare the pesto with an immersion blender.
Fusilli al pesto di cavolfiore e mandorle (fusilli with cauliflower-almond pesto)
Serves 2:
1/4 medium-sized cauliflower
2 handfuls of raw almonds
1 garlic clove
200 gr. feta
5-6 twigs of mini basil (normal basil is fine too)
1 pinch of chilli flakes
rind of 1/2 organic lemon
2 spoons of lemon juice
1/2 dl. extra virgin olive oil
4 spoons of water
salt and black pepper to taste
Grate the cauliflower with the mixer until they look like couscous.
Add the rest of the ingredients and mi until you obtain a quite coarse pesto.
Serve on your favourite pasta and buon appetito!
 A presto!
Nicoletta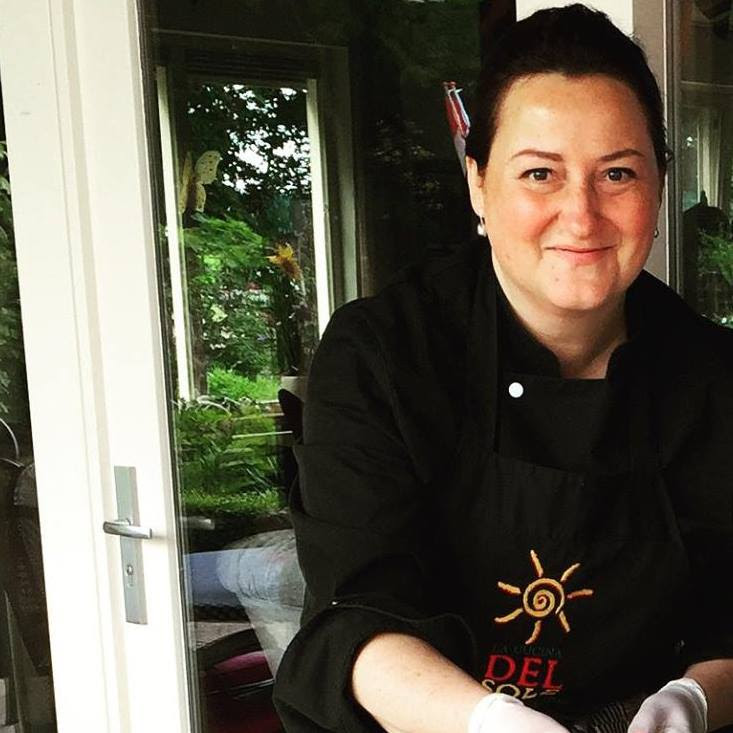 Nicoletta heeft zichzelf verdiept in technieken en originele recepten die binnen haar familie van moeder op dochter zijn overgegaan en haar culinaire capaciteiten verfijnd met master classes bij Gambero Rosso in Rome, een sommelier diploma en vooral door ontelbare praktische experimenten. Ze wordt terecht gezien als culinair Italië-expert en wordt regelmatig gevraagd voor advies over de Italiaanse keuken o.a. door de Consumentenbond, tv-programma's als Kassa! Pestotest (Vara), "De smaakpolitie" (SBS6), "Herrie in de keuken" (RTL4) , radioprogramma's als "Dichtbij Nederland" (Radio 5) en "Winfrieds Woonkamer" (NTR), kranten en blogs. Nicoletta heeft veel boeken gepubliceerd, o.a. "Antipasti" , "Cucina di casa mia – Recepten van een Italiaanse familie","Gewoon Gezond".

Nicoletta geeft les Italiaanse keuken in haar eigen kookschool"La Cucina del Sole".
Latest posts by Nicoletta Tavella (see all)